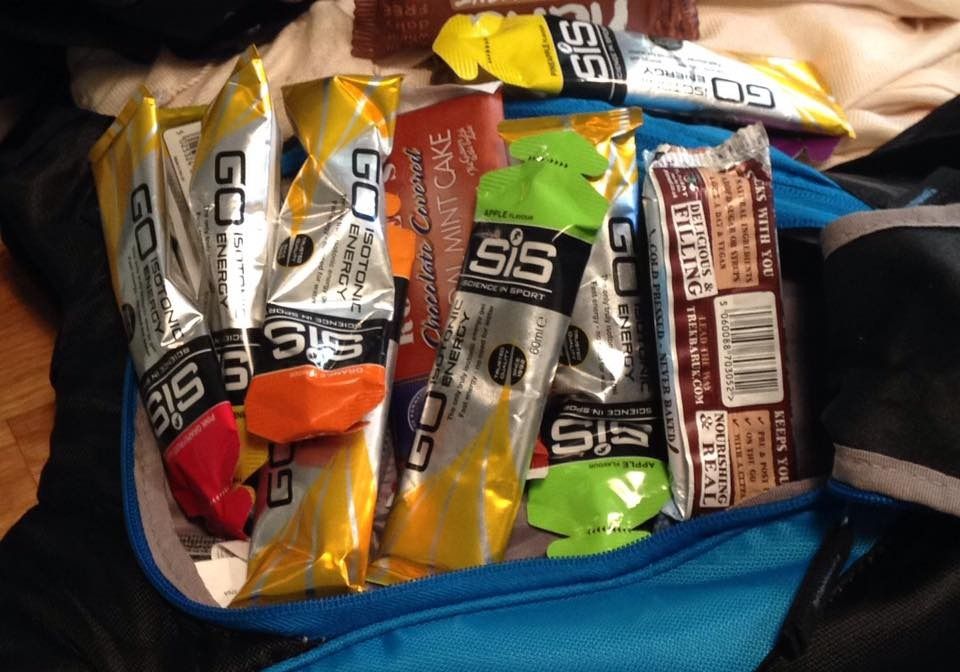 We dashed 22 miles up Snowdon the other day (http://www.ratracemanvsmountain.com/). It was lovely. A really fun day out. I well recommend it to you.
Anyway, before it, there was plenty of discussions about "optimal refueling" and "rehydrating" and should we be "carbo-loading" or did we have enough "electrolytes in our precision gels" etc. All wonderful, interesting discussions, but totally pointless for 90% of the people discussing it!
Now don't worry, I'm really not holding myself up as some role model here, but I reckon I got my prep about right. Here is is:
Nice tasty meal the night before (pie and chips)
Couple of my mums home made flapjacks for breakfast on the day
Plenty of flavoured water I like the taste of to take with me
Couple of good, man sized

handfuls

of my mums flapjack to take with me
Topping up with water and chocolate chip cookies on the pit stops on the way round.
Another tasty pie and chips meal the evening after the event.
I was told I should have an energy gel every half hour. A quick google search showed me this page that suggests a similar thing (2-3 gels per hour). Was I a fool to not follow the advice and be so slap-dash about it? I mean, I didn't even bother checking if I was replacing my electrolytes! I didn't calculate my macros based on my weight or anything! I mean, bloody hell! I just lobbed a few homemade flapjacks in me pack and made up a bottle of Robinsons barley water! What was I thinking?!?!
But it helps that I have:
Actually read up a bit on the subject and not just accepted what the adverts have told me
A degree in science that helps me understand results and think critically
25+ years of actual, real world, coaching experience that helps me figure out what is important and not.
You see, I was not racing this thing. I was not going to try to win it. I was simply having a bloody good day out, with some bloody good people, back in gods own country of Wales (have I mentioned I'm Welsh???). Number 1 in my list of priorities was "have a great time". The last in my list of priorities was "performance".
Because of this, I did not care the 2-5% increase in performance "optimal refueling" would have given me. Instead, I cared about getting round it and having a nice time. And my eating/drinking was "good enough". It followed the 10 simple rules of healthy eating and that was fine. In all honesty, I would not have even noticed an extra 2-5% performance…but I sure as hell would have noticed having to squirt rank tasting gloop down my gullet every half hour when my watch beeped 🙁
Now don't get me wrong, in the past and again in the future, when I am racing something, I will take a lot more care about when and when I eat/drink. And I think you should too. Because when we are racing, we should be willing to make sacrifices and a 2-5% drop in performance will be no good. But a serious question we should all ask ourselves is are we really so elite that we actually know what 2-5% increase in performance feels like? And how much of a boost in performance do you think you get when you are free from anxiety and actually enjoying the thing you are doing? I reckon that for most of us, that will probably be more than 2-5%…
So I guess what I'm saying here is:
Figure out your priorities. What is actually important to you.
Figure out what will help you achieve your top priority.
Stop worrying and getting anxious about things that don't really matter.
And here is the obligatory bit of self promotion…If you want help doing any of the above, maybe I can help. I'm actually pretty good at helping people get fitter, stronger, healthier and happier, you know 🙂
See what services I have on offer here and book me here!